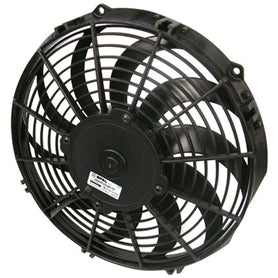 Spal electric fans are built to meet the most rigorous automotive cooling requirements. They are durable, reliable, and the choice of many NASCAR teams. Some models are also perfect for your motorcycle, ATV, and/or oil cooler applications.
Spal manufactures these fans from sturdy plastic, and most feature a fully sealed waterproof/dust-proof motor. Each fan is individually balanced for long life. Spal fans can be mounted to any radiator with universal brackets and shrouds.
Order the size, cfm range, amp draw, blade quantity, and pusher/puller option needed for your vehicle.