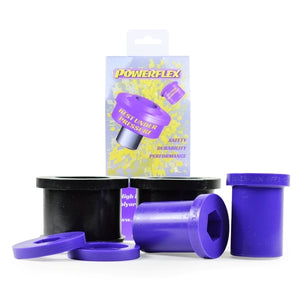 Located on the rear section of the front Wishbone/ Control A Arm
Control arm bushings play a key role in connecting the wheels to the chassis of the vehicle. Tasked with keeping suspension geometry in check while absorbing noise, vibration, and harshness (NVH) factory rubber bushings were engineered to provide a balance of comfort and control.

Engineered to perform, Powerflex performance polyurethane control arm bushings offer a supreme level of control, while still providing enough comfort for the street, with advanced polyurethane that reduces NVH that often accompanies lesser bushings. Expect improved steering feel, turn in, more responsive handling and overall improved chassis composure with Powerflex performance polyurethane control arm bushings.

Powerflex is the number one selling suspension bushing manufacturer in Europe. Their experience with polyurethane bushing material and state-of-the art manufacturing techniques allows them to produce premium performance bushings, made to exact-fit standards. Powerflex performance polyurethane bushings are built to last longer than OEM rubber bushings, while improving performance and allowing for a more engaging driving experience.
Powerflex street bushings are ideal for street driven vehicles and those that see occasional autocross or track time. Need bushings for a dedicated track car? Powerflex Black Series bushings are the ultimate in track and race bushings. Featuring 95A durometer polyurethane, Black Series bushings are 25% stiffer than street bushings.
Powerflex is proud to offer a Lifetime Warranty to the original purchaser on all products.