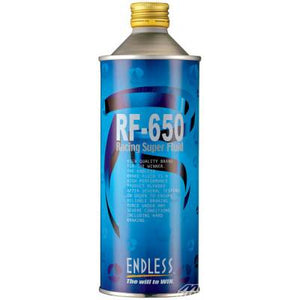 We recommend the fluid with the highest specifications for hard braking in circuits and rallies.
This racing fluid cleared many F1 team lab tests over a long period of time, demonstrating its value in a race. It has been used in many battles for world championship titles where it has proven to have overwhelming performance and reliability. It has also been praised for its high performance by famous tuning shops and top teams in everything from track meets to Super Taikyu Races, SUPER GT, All Japan Rallies, etc.
Base oil/Polyalkylene glycol ether type
Dry boiling point/323℃
Wet boiling point/218℃
EXTREMELY RELIABLE BRAKE FLUID FOR ALL APPLICATIONS
RF-650 is remarkable in its specifications on paper, and has proven to be so on the track and street as well. Even though RF-650 is marketed as a race brake fluid it can be used in all types of vehicles. Whether you drive a Formula One™ car or a road-going vehicle, RF-650 will give you amazing reliability and feel.