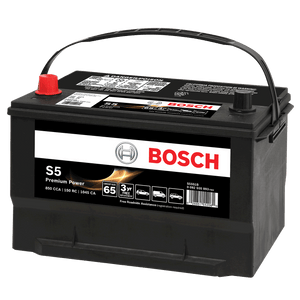 Bosch S5 Premium Performance Battery
3 Year 100% Free Replacement / Free Roadside Assistance
S5: The Energy Pack for Luxury and Premium Cars - Being a powerful energy source, the S5 meets demanding performance requirements. It is a dependable supply of energy for today's higher demanding components with a long service life and low self-discharge.
Increased cold-starting power, increased power reserve, increased safety: In the luxury class, the dependable supply of electrical extra features is an important factor in the choice of batteries. The Bosch Battery S5 is especially suitable for new cars in this class, as it fulfills the manufacturers' sophisticated recommendations concerning original equipment and often even surpasses them. Silver Technology and reserve capacity increase the service life of the batteries significantly.
The Bosch S5 Premium Battery - Is specially designed with corrosion resistant grain structure that prevent sulfating, the S5 fulfills and surpasses international standards set by the OE manufacturers. Even at extreme temperatures, the S5 provides powerful energy supply for starting and supplying the highly sophisticated, wide range of energy consuming components on today's vehicles.
Features and Benefits:
3 Year free replacement
Innovative Bosch Silver Technology
100% maintenance free
30 % more cold-starting power
Designed for the extreme demands of luxury and premium vehicles
Safe starting also in extreme temperatures
30 % increased service life
Exceeds OEM requirements for premium starting performance
Maximum safety with: - Leak-proof, patented labyrinth cap - Double backfire protection
Free Roadside Assistance Program
Bosch Battery Enhanced Warranty Program - 36 Months - 100% Free Replacement
FREE Roadside Assistance Program
3 year coverage term
No activation required
No 48 hour waiting period
24/7/365 nationwide assistance US, CAN, PR
- Bosch S5 Battery Brochure (Download PDF)
- Bosch Battery Features and Specifications (Download PDF)
- Bosch Battery Application Guide (Download PDF)
Bosch GMBH
Bosch is one of the largest global suppliers of automotive products, developing, manufacturing and supplying precision OE components and systems to vehicle manufacturers and the automotive aftermarket.