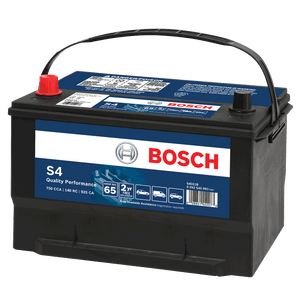 2 Year 100% Free Replacement / Free Roadside Assistance
S4: Lots of energy and powerful starts for all car classes - Being a powerful energy source, the S4 meets demanding performance requirements. It is a dependable supply of energy for today's higher demanding components with a long service life and low self-discharge.
Superior Starting Power: Energy reserves with 15 % more starting power than conventional car batteries guarantee quick and safe engine starts during any season. Thanks to its extremely low self discharge, the Bosch Battery S4 is always ready for cold starts, even after prolonged non use.
The Bosch S4 Battery's - technical design makes the Bosch Battery S4 especially suitable for the wide range of mid-size cars. Not only is it recommended for compact cars, but also for cars with more sophisticated features.
Features and Benefits:
2 Year free replacement
100% maintenance free
Meets or exceeds OEM quality requirements
20 % increased service life with innovative silver alloy
15 % more cold-starting power
Permanently meets the high requirements of international automakers regarding electrical values
Safely ensures the energy supply of medium convenience features in a vehicle
Focused on mid-size cars
Free Roadside Assistance Program
Bosch S4 Battery Enhanced Warranty Program - 24 Months - 100% Free Replacement
FREE Roadside Assistance Program
3 year coverage term
No activation required
No 48 hour waiting period
24/7/365 nationwide assistance US, CAN, PR
- Bosch S4 Battery Brochure (Download PDF)
- Bosch Battery Features and Specifications (Download PDF)
- Bosch Battery Application Guide (Download PDF)
Bosch GMBH
Bosch is one of the largest global suppliers of automotive products, developing, manufacturing and supplying precision OE components and systems to vehicle manufacturers and the automotive aftermarket.