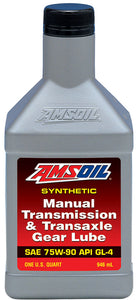 Protects Against Wear & Heat in Severe Applications
Synthetic Manual Transmission & Transaxle Gear Lube is shear-stable and maintains its viscosity despite rigorous mechanical action. It provides a thick lubricating film and contains extreme-pressure additives to protect against wear in severe-service and shock-loading conditions common when towing or hauling. It resists thermal degradation and oxidation for excellent performance in high-temperature applications, such as the New Venture NV-4500 transmission, which retains heat due to its cast-iron housing and is often subject to increased torque from turbodiesel engines.
Quick Shifts & Excellent Protection in Hot Rods and Muscle Cars
Synthetic Manual Transmission Gear Lube's friction-modified formula and excellent cold-flow properties promote smooth, fast engagement of synchronizers and gears. It protects against wear caused by the high-horsepower, large-displacement engines common to hot rods and muscle cars. It is formulated with seal conditioners to reduce leaks.
Promotes Longevity in Front-Wheel-Drive Transaxles
Synthetic Manual Transmission Gear Lube meets 75W/80W-90 viscosity requirements and exceeds API GL-4 performance requirements for many front-wheel-drive vehicles. Its excellent gear protection, extreme-temperature performance and durability promote maximum longevity and reduced maintenance costs.
Protects against increased heat and pressure
Outstanding cold-flow properties
Protects brass synchronizers
Friction-modified
Excellent seal compatibility
Inhibits rust and corrosion
Long service life
Applications
Synthetic Manual Transmission & Transaxle Gear Lube is recommended for applications requiring a 75W-85, 75W-90 or 80W-90 viscosity gear oil with any of the listed specifications:
API GL-4
Chrysler MS-9070
ZF TE-ML 02b, 17a
MAN 341-Z2 (formerly MAN 341 ML)
MB 235.5
Replaces GM part #12346190 and Chrysler part #4874459. Examples of transmissions and transaxles requiring a 75W-90, API GL-4 lubricant include certain models of Hyundai, Infiniti, Kia, Lexus, Mazda, Mitsubishi, Nissan, Suzuki, Toyota, Volkswagen and Hino.
Service Life
Under normal operating conditions AMSOIL Synthetic Manual Transmission & Transaxle Gear Lube last two times longer than conventional petroleum GL-4 gear oils. Where the original equipment manufacturer (OEM) recommends synthetic oils, follow the OEM drain interval (such as NV-4500).